13 activities to enjoy with kids
From exciting theme parks to educational activities and walks in nature, North Wales truly does offer something for everyone, including families with children.
1. Discover Conwy Castle and walk along its Medieval walls
One of the many things to do in Conwy, this 12th-century beauty is one of the best castles in North Wales and a UNESCO heritage site thanks to its 1.3km-long walls. Have fun discovering Conwy from a unique perspective!
Plunged in the woods, this Zip World branch will allow your children to have the time of their life as they zipline amongst the trees, bounce on nets, try the UK's only alpine coaster, and even hop onto Europe's highest giant swing.
A fun and educational family day out in North Wales, this mountain zoo covers 37 acres and is home to over 140 species from all corners of the world. Why not make your kids' visit even more special by arranging an animal encounter or getting them to become zookeepers for the day?
4. Have fun on the pier in Llandudno
When visiting the 'queen of Welsh resorts', be sure to head to its charming Victorian pier, full of rides, treats, and shops. This entire town makes for an unforgettable day out with your kids, from its beaches to falling down the rabbit hole along the Alice in Wonderland trail: discover even more things to do in Llandudno.
Have your children not received their Hogwarts letter yet? This is probably as close as they can get to experiencing the thrill of riding the Hogwarts Express in real life.
Travel back in time on an actual steam train as you all take in the awe-inspiring views of Snowdonia from the window.
6. Stand next to the majestic Aber Falls
With its hills and mountains, it's no wonder that North Wales is home to several waterfalls. We especially recommend Aber Falls as you'll also get to enjoy a pleasant hike with your kids on the way there.
7. Bounce Below… in the depths of a cave
Who knew that an abandoned mine could make for such a fun playground? With 10,000 ft2 of nets as well as trampolines and slides, you really can't get bored. This is a great activity for children as young as seven, although they'll need a participating adult (which is a great excuse for you to have some fun bouncing, too!).
If you're heading to the sandy beaches of Rhyl, pop into this aquarium, too. We bet your children are going to have a fantastic time looking at all those colourful fish species.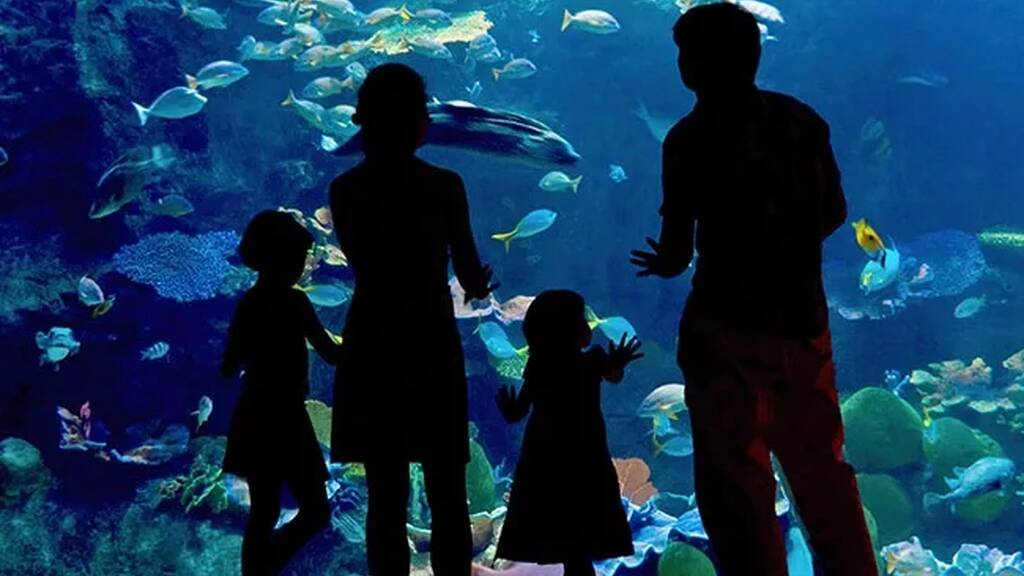 An ideal day out for families, this grade 1 listed stately home comes with hundreds of acres of gardens and woodlands. Discover its impressive architecture and the quirky artefacts that it's home to, including a 3,000-year-old mummy and an extensive collection of armours.
Well, it's in the name! GreenWood is a fun day out for the entire family and especially your children or grandchildren thanks to its colourful rollercoasters and slides.
11. Travel to a Mediterranean village at Portmeirion
Pastel-coloured buildings, European gardens, the tranquil views of the estuary, and most importantly… tasty Italian-style ice cream!
The village of Portmeirion is like a day out along the Mediterranean coast minus the travel stress and costs.
12. Enjoy a family-friendly walk in North Wales
From the hills of Snowdonia to coastal paradises and green forests, there's an incredible variety of walks that you can try in North Wales.
If you want to start with easier ones to make sure that both your kids and their grandparents can enjoy them without too much effort, here are our favourite family-friendly walks.
13. Spend some time beside the seaside
With over 370 miles of coastline, North Wales boasts a variety of charming beaches.
Whether you're after a sandy one where your kids can have fun making sandcastles or some coastal walks next to a bustling seaside resort, here are the best beaches in North Wales.

Investing in a North Wales holiday lodge for your family
With such a variety of attractions and adventures, North Wales is a beautiful destination for families. Allow yours to return as often as you wish by investing in a holiday lodge.
From options with two bedrooms to additional rooms for your own parents, we have lodges for all kinds of families and needs. Start browsing them today!