From natural wonders to historical gems, these aren't just the most beautiful places in North Wales, but some of the most stunning beauty spots in the entire UK.
Before thinking we're biased, have a look for yourself.
12 most beautiful places in North Wales
The first thing you'll notice about North Wales is its impressive variety of landscapes. Regardless of what you personally tend to find picturesque (or picture-worthy), the most beautiful places in North Wales will have you reaching for your camera. Guaranteed!
The third national park in Britain, Snowdonia covers 823 square miles of mountains, hills, lakes, and valleys. Think of it as a giant outdoor playground!
As well as being perfect for hikes and sports, Snowdonia showcases some of the most beautiful places in Wales.
Here's how we recommend taking in its views: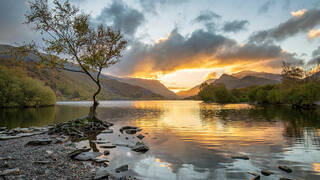 2. Coastal path around Anglesey
The island of Anglesey is a renowned tourist destination full of fun or charming attractions.
To really make the most of its coastline, however, you should try this 124-mile loop at your own pace.
Some of its most eye-catching highlights include lighthouses like Southstack and Penmon Point, the Menai suspension bridge, the tidal island of Llanddwyn, and Beaumaris Castle, which still has a moat full of water.
3. Beddgelert
One of the best hidden gems and most beautiful places in North Wales, Beddgelert is such a picturesque village.
We bet you'll instantly fall in love with its adorable bridge and stone-and-slate buildings.
4. Llandudno and the Great Orme
Known as the 'queen of Welsh resorts', Llandudno is a bustling seaside town that's perfect for a fun family day out.
As well as admiring its Victorian pier and beaches, be sure to discover the Great Orme, which makes for one of the best coastal walks in North Wales (or you can try the tramway or gondolas).
This dolomite and limestone headland guarantees unforgettable views of the sea once you reach its 679 ft summit.
5. Lake Vyrnwy reservoir
Would you ever guess that the fairytale-esque tower by this lake is actually for filtration rather than the home of a Disney princess?
Every side of Lake Vyrnwy is full of stunning views, and there are plenty of walks that you can try in the area.
Another charming village with bridges and buildings made of stone or slate, Betws-y-Coed is small but full of things to see and do.
Enjoy plenty of walks in nature, perhaps even all the way up to Swallow Falls?
Fancy a stroll along the highest canal aqueduct in the world, right next to some colourful boats?
Built in 1805, this stone and cast-iron example of Georgian architecture dominates the Vale of Llangollen.
8. Conwy
A historical town right by the sea and the river estuary, Conwy is famous for its UNESCO castle (one of the best in North Wales) and 1.3-km-long walls.
Did you know that you can still walk along them?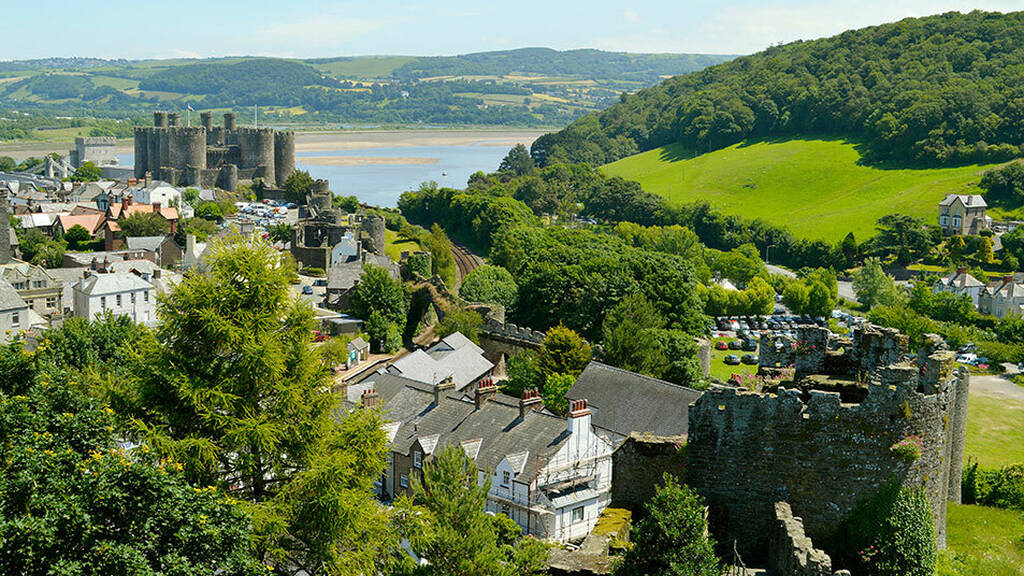 9. Coed y Brenin Forest Park
Known for being home to the first purpose-built mountain biking centre in the UK, this forest park is ideal for runs and walks, too.
As you stroll amongst the trees, look out for some hidden gems like waterfalls and picturesque bridges.
10. Portmeirion
Definitely one of the most beautiful places in North Wales… and yet it doesn't even look like you're still in the UK!
This Mediterranean-inspired village is a must for families. As if its European architecture weren't interesting enough, you'll get to take in the views of the estuary, too.
11. Llyn Peninsula
This entire area is peppered with breathtaking views and countless things to see and do, from seaside towns to sandy beaches and fun watersports.
You might even get to spot some dolphins and seals if you're lucky!
No matter the season, this garden is one of the most idyllic, beautiful places in North Wales.
It was established in 1874 thanks to Henry Pochin, a scientist and businessman who managed to fill these grounds with plants collected by global explorers from all corners of the world.
A base to return to and discover more beautiful places in North Wales
Still suspecting of being biased? Didn't think so.
This part of the country is indeed filled with all kinds of memorable landscapes and sceneries.
If you'd like to be able to return to it as often as you wish, consider investing in a holiday lodge for you and your partner or family.
Browse our varied range, and get ready to discover all the most beautiful places in North Wales at your own pace.