9 best adrenaline junkie activities in Wales
With its varied geography and landscapes, it's no wonder that some of these adrenaline junkie activities in Wales take place in breathtaking or downright mind-blowing settings.
1. Reach up to 100 mph on the fastest zipline in the world
Velocity 2 is one of Zipworld's most popular highlights: as well as being the fastest, it's also the longest zipline in Europe at just over 1,5 km.
Because it consists of four parallel lines, you can choose to enjoy it with your friends or family members.
Get ready to fly over the charming Penrhyn Quarry lake and take in the majestic views of the Snowdonian hills and mountains.
2. Skydive from 7,000 ft (or more!)
There's more than one skydiving facility in Wales, but we especially recommend Skydiving Wales in Snowdonia, where the views alone will add to your 7,000 or 10,000 ft experience, and Skydive Swansea, where you can get up to 12,000 ft if you're feeling particularly brave.
3. Abseil all the way down to the deepest point in the UK
Not all adrenaline junkie activities in Wales take place above the ground. As long as you're not claustrophobic, have fun discovering some of the best caves, including a special abandoned mine.
At Go Below, you can try the longest underground zipline in the world, boat across a subterranean lake, climb up a waterfall, and even abseil down 1,300 ft.
4. Brave the rapids down the river
Put a wetsuit on, jump into a raft, and enjoy a 5 km guided trip down the River Dee with White Water Active.
While it's a fantastic opportunity to discover Llangollen and its surrounding areas from a different point of view, you never know when the next rapids are going to test you, from the Serpents Tail to the Tombstones and the Town Falls.
5. Fall asleep down a cliff edge
Can wild camping really get any wilder than spending the night on a portaledge suspended above the Irish Sea?
Gaia Adventures guarantees an unforgettable night and an even more awe-inspiring awakening in the morning.
Plus, if you're lucky, you might even spot some seals, dolphins, and—if the sky is clear—even Ireland.
6. Fly above the water like a superhero
Even though water-propelled jetpacks were invented in 2009, they still feel like something out of an action or superhero film.
So, have fun putting one on and floating above the water surface with the help of Big Crazy Flyboarding.
7. Go down some thrilling mountain bike trails
With its hills and forests, Snowdonia is a paradise for mountain bikers, so you're really spoiled with choices if you're looking for adrenaline junkie activities in Wales that involve some jumps on a saddle.
We especially recommend Coed y Brenin, the first specialist mountain biking centre in the UK with challenging routes like The Cavity and False Teeth, and the Gwydir Mawr Trail, where you'll also be rewarded with astonishing mountain views.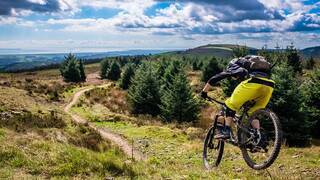 8. Bounce up and down…. below
Another Zip World attraction, Bounce Below is one of the best adrenaline junkie activities in Wales for families, as children as young as seven are welcome.
Just imagine a bouncy 10,000 ft2 maze of underground nets hidden in the Llechwedd Slate Caverns. From a 180 ft trampoline to an industrial-sized slide and lots of tunnels, you'll feel like the protagonist of an action video game.
9. Tame the waves with a surfboard
Wales is also famous for its watersports. You can surf some actual waves when you head to popular beaches like Manorbier or Freshwater West in Pembrokeshire, Rhossili in Gower, and Llantwit Major or Porthcawl in Glamorgan.
However, if you're not quite ready for the wrath of the sea, start at the Adventure Parc Snowdonia. As well as a variety of indoor and outdoor adventures, it's known for its man-made inland waves surrounded by the mountains and forests of Snowdonia.
Have a base to return to for more adrenaline junkie activities in Wales
With so many challenges and activities to try, you'll never get tired of this stunning country. So, why not have an excuse to go back as often as you wish without having to worry about hotel reservations and travel arrangements?
When you invest in a holiday lodge in North Wales, you get more than a place to stay: you'll have a home away from home that you can also use as a base for a variety of holidays, from the best adrenaline junkie activities in Wales to some long weekends to relax.